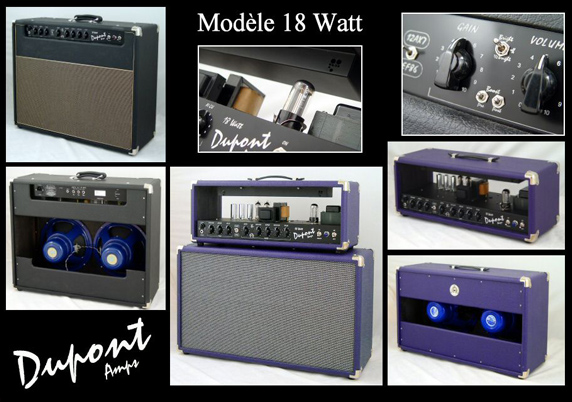 Speficications:
Power: 18 w
PreAmp Tube: 1 x EF86
PreAmp Tube: 2 x 12AX7
Power Tube: 2 x EL84
Rectifier: 5Y3
Class: CLASSE AB
Output: 4, 8, 16 ohm
Control: Micro (General)
EF86 Channel: Volume, bass, high
12AX7 Channel: Gain, Switch Bright, Switch Preboost, Switch Postboost, Volume, Bass, Medium, High
Cover: Included
Pedal: Foot switch
Reverb: Option
Models: Combo, Head, Speaker cabinet
Options: Reverb, Effects Loop, Reverb Pedal
Download: User's guide
The 18Watt is, without doubt, the most versatile amplifier we have produced. With its two channels, you can move from crystal-clear yet textured sound to vintage overdrive and powerfull distortion. You can play blues, rock, funk, soul or modern jazz… It's the perfect vehicle for building a great tone with almost any guitar. If you are a lover of British sounds, it's made for you. In spite of being only 18 watts, you will have the sensation of playing with a 40 or 50 watts amp.
And, as with the majority of our amps, it features the Dupont standard "Micro" input which is adapted for any guitars.