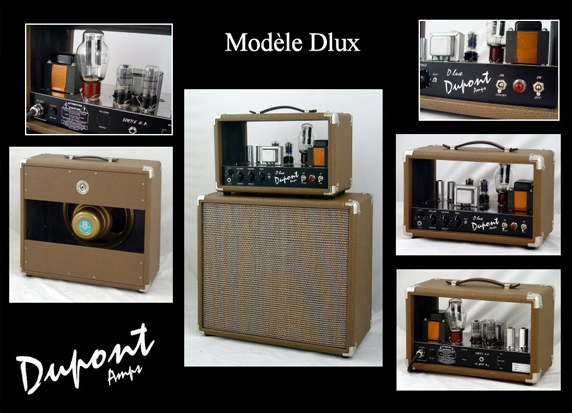 Specifications:
Power: 15 w
PreAmp tube: 1 x 12AY7
PreAmp tube: 1 x 12AT7
Power tube: 2 x 6V6
Rectifier: 274B
Class: CLASSE AB
Output: 8 ohm
Controls: Micro, Volume normal, Volume bright, Tone, Boost
Cover: Included
Pedal: In option
Reverb: In option
Models: Combo, Head, Speaker cabinet
Options: Reverb, Effects loop, Reverb and/or boost footswitch
Download: User's guide
This amp has been built to produce classical american tones but with your mix you can also produce that rock crunch, especially with high impedance pickups. You have two options: Alnico Gold speaker or Greenback speaker, each with a very different character. The Gold have a warm, clear tone while the Greenback is dryer and more vintage. You can mix the two volume controls (normal and bright) and then with simple tone, micro and boost controls you will produce some incredible sounds.

Furthermore, as with the majority of our amps, it features the Dupont standard "Micro" input which is adapted for any guitars.