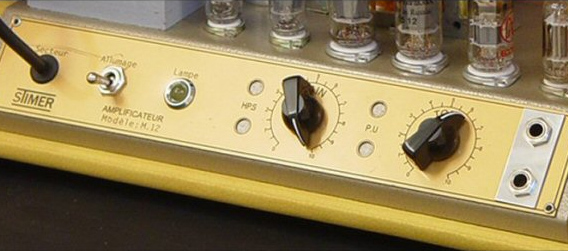 Owner of the "Stimer" brand, we have decided to produce once more this tube amp and preserve the original sound and look.
Completely hand built (with point to point soldering) in our Cognac workshop, it uses a subtile mix of exact copies and original parts (some N.O.S. tubes, New Old Stock).
Connect a "Selmer" style guitar equiped with a Stimer pickup and listen to the magic of that 50s french jazz sound.
<< Back Full Range
---
OUR
STIMER AMPLIFIERS
---
M6 "COMBO"
Power: 6 w
PreAmp Tube: 1 x 12AX7
Power Tube: 1 x EL84
Rectifier: EZ81 tube
Class: CLASSE A
Output: 8 ohm
Controls: Gain, Tone, Boost, Micro
Model: Combo
Cover: In option

Weight: 6,5 kg
Height: 37,5 cm
Width: 33,5 cm
Depth: 15 cm
Speaker: 1 X 10" - 8 ohm Jensen ceramic
Download: User's guide
Price: 990 €
---
M12 "COMBO"
Power: 12 w
PreAmp Tube: 1 x 6AV6
PreAmp Tube: 1 x 12AU7
Power Tube: 2 x EL84
Rectifier: 2 x 6X4 ou 2 x EZ90
Output: 8 ohm
Controls: Gain, Tone
Models: Combo
Cover: Included
Options: Tolex
Weight: 9,7 kg
Height: 44,5 cm
Width: 38 cm
Depth: 18 cm
Speaker: 1 X 12" - 8 ohm Jensen ceramic
Download: User's guide
Price: 1 820 €
---
Dupont
spring reverb
option


Price: + 220 €
Reverb
+ FootPedal
(footswitch
reverb)

Price: + 275 €
Reverb + Pedal/
boost Pedal
(footswitch
reverb)

Price: + 300 €
Other speakers,
tubes or
customization


Contact us
Workshop Cognac
Maurice Dupont
20 rue de Port-Boutiers
16100 Boutiers-Saint-Trojan
(Cognac) – FRANCE
Monday to Friday
8:30-12:30 AM
& 14:00-17:00 PM
Saturday
On appointment
Office: +33 (0)5 45 32 54 10
dupontguitars@gmail.com


MANUFACTURING
100% FRENCH
Quite our instruments are
completely realized in
our workshop of
Boutiers-St-Trojan – Cognac