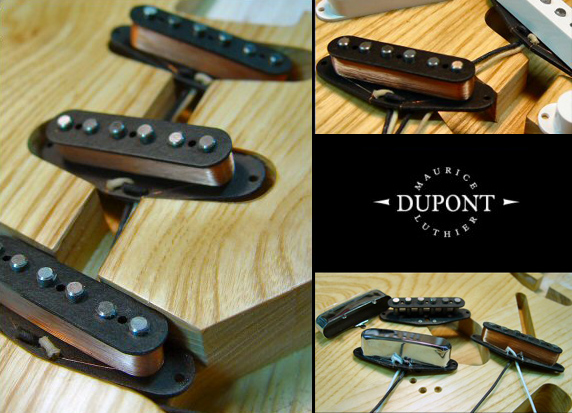 Most of the pickups showed here are designed to fit on our acoustic and electric instruments and are chosen or made with the same desire for quality as with our guitars. Now they are also available for sale for those wishing to customize instruments to specific tastes. They can equally be used on other maker's models; do consult us on their compatibility to ensure total satisfaction.
If you don't find here the model corresponding to your needs, don't hesitate to contact us. We are here to advise you and help make your dreams come true.
DUPONT PICKUP – TELE STYLE
The sound of these pickup, with its somewhat vintage and individual tone, correspond to the one that was on the old Tele 52 Model. It has been perfected for playing on a tube amplifier.

The Alnico5 magnet is built by a specialized firm. The precise, high quality coil,with Forbon fibre, is made by a local company, chosen after rigorous tests. The whole is assembled in our workshop.

As on older models, the neck pickup benefits from a thinner wire and the cover is in chromium-plated steel. The bridge pickup is protected by a cord and is surrounded with wax in the old style. It rests on a brass plate to guide the magnetic flux, thus obtaining its characteristic sound.
Price: contact us
DUPONT PICKUP – STRATO STYLE
These version is built in our workshop using features of the pickup on the Strat 57 but with a few improvements, such as evenness in the fabrication and precision in the final tone.

The Alnico5 magnets are built by a specialist firm. The high quality coil is made by a local firm, chosen after rigorous tests. As on older models, the flatwork is in Forbon fibre and once assembled, the pickups are potted in the original way to avoid feedback.
The bridge pickup benefits from greater power than the other, allowing outstanding rythms or powerful solos, whilst maintaining the spirit of the old models.
The whole brings a warm vintage tone with an individual texture, perfect to use on a tube amplifier.

The cover exists in different colours, the standard being white, black or ivory.
Price: contact us