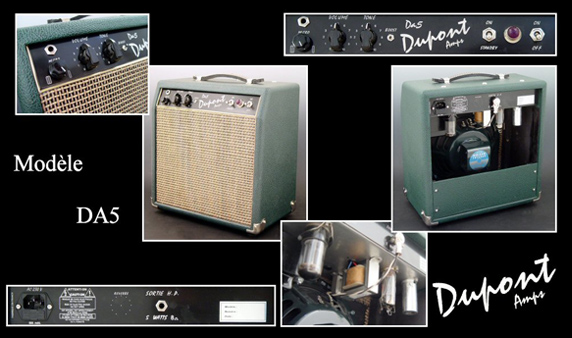 Specifications:
Power: 5 w
PreAmp tube: 1 x 12AX7
Power tube: 1 x EL84
Rectifier: 1 x 5U4
Class: Pure CLASSE A
Output: 8 ohm
Controls: Micro, volume, tone, boost
Reverb: In option
Models: Combo
Options: Reverb, Cover

Download: User's guide
This amp is similar to the Mini in size and power. Even more research has gone into finding an authentic vintage sound, mainly thanks to the Alnico speaker choke and rectifier tube. As with the mini, you can use it on stage with a return as well as in studio. It is our top quality amp in this power range.

IMPORTANT: We have deliberately developed a light tone which allows much more precision, at the same time keeping the sound of the 5 watt amps which originally didn't have tone.

Furthermore, as with the majority of our amps, it features the Dupont standard "Micro" input which is adapted for any guitars.