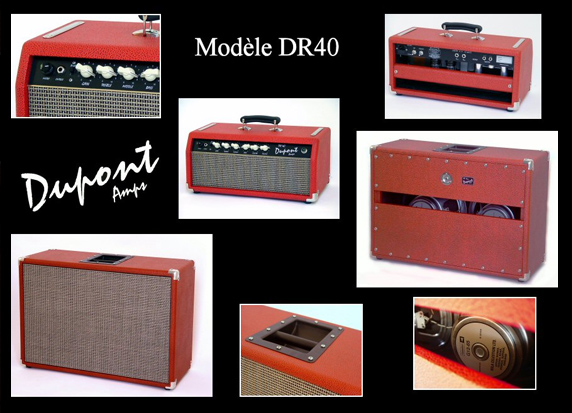 Specifications:
Power: 40 w
PreAmp tube: 2 x 12AX7
Power tube: 2 x 6L6
Rectifier: Diode
Class: CLASSE AB
Output: 4 ohm et 8 ohm
Controls: Micro, switch bright, gain, low, medium, high, reverb and volume
Cover: Included
Pedal: In option
Reverb: Included
Models: Head, Speaker cabinet
Options: Effects loop, Reverb foot switch

Download: User's guide
We have had enough of breaking their backs but who don't want to sacrifice their favourite sound, we have created this much lighter head. At 40 watts our neat and effective reverb, which benefits from our careful sound tweaking, is greatly appreciated. With only 1 channel the instrument is ready to go. It has a clear, American sound which can be overdriven without destroying your hearing, thanks to the volume control which kicks in just before the power stage so as not to affect the sound.

Furthermore, as with the majority of our amps, it features the Dupont standard "Micro" input which is adapted for any guitars.