From Barbès to Memphis, under the sun of Casamance or hiding away from society, Azzedeen with his Franco-Tunisian origins, carries his guitar as a flag and sends us his song in the name of freedom .
A self-taught composer, songwriter and singer in constant development, he invites us to travel with his music. Sometimes in town, sometimes a townie, sometimes a country boy, his atypical career has taken him from Paris bars and theatres, meeting musicians like harmonica player Loran Delage or the Scots guitarist Peter Alexander White and above all Freddy Lawson, to the clubs of Kentucky and of North Carolina, where he met Charlie Whitlington and the legendary Rufus Thomas.
Azzedeen is an artist who speaks with his heart and his soul. His music is alive, sensitive and influenced by different cultures: Delta Blues, Rock'n roll and Eastern music, all giving his work a distinctive colour.
Azzedeen has participated in the compilation "les Guerriers Pacifistes" of Gregsky with his song "Les Enfants de l'Intifada"
You can also hear him in duos and in larger groups :
Loran
DELAGE
Harmonica player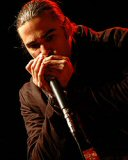 Djilali
FRIH
Percussionist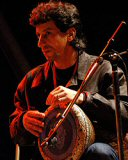 Dominique
MUZEAU
Double bass player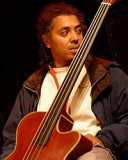 Bertrand
CLOUARD
Drummer
Listen to an extract of the first album :
(the new album "37238" is available since 2007)
Le lézard bleu
Les immigrés
Visit his website : www.azzedeen.com