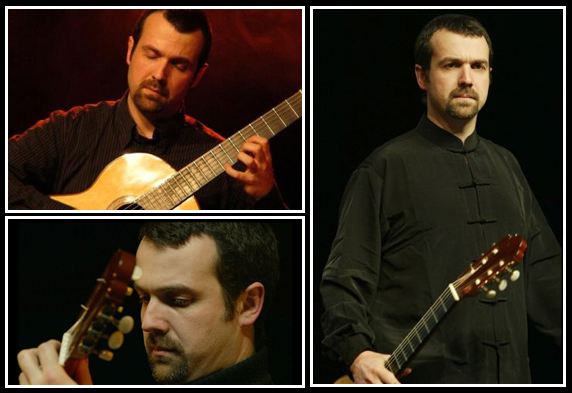 Born in the Charente region of France in 1969, Benoit Albert entered the National Music Academy at Bordeaux in 1988 where he won prizes in Guitar (first prize), Harmony (second prize), counterpoint and Chamber music, and received the Bordeaux medal of honour for Guitar. He also graduated from the "M.Montaigne" University of Music .
In 1995, he joined the Higher National Academy for Dance and Music in Paris, studying with O. CHASSAIN and C. HARM; he obtained the first prize in guitar in 1988. He studied music analysis with F. DURIEUX, chamber music under C. IVALDI as well as with P.L AIMARD and Laszlo HADADY. He won first prize for guitar duet with the American Randall Avers in 1999.
With the CNFPT guitar teaching diploma he currently teaches at the Higher National Academy of Music and Drama at Agen. Since 1996, as part of this post, he has organized the annual international season for guitars in education : "La Guitaromania".
He performs regularly as soloist and with chamber music group, at, for example : "the International festival of Caracas"(1995), Vandoeuvre Les Nancy(2001), the Issoudun 13 th convention (2001) and "Grandes Heures de St-Emilion" (2004). He is also a regular guest of the chamber orchestra of Agen, performing concertos by Vivaldi and Rodrigo.
His interest in new repertoires led him to produce many transcriptions for different ensembles which include the guitar and to solicit new work from young composers such as the Bulgarian A. OURKOUZOUNOV or T. ROUGIER and J. BALLUE in France. He himself composes chamber music and educational pieces with DELATOUR Edition-France .
He is the artistic director of "La Compagnie des Arts", with Jerôme SIMONPOLI (Oboe), Chrstophe GEILLER (Violin), Emmanuel FERRAN ( Clarinet) and Laurène ALBERT (Dance). The group is a veritable laboratory where dance, music and other art forms are combined. They have produced an original recording, "L'Histoire du Tango" ( Milan-Music 2004), based on the chamber music works of Astor PIAZZOLLA.
LAURENE ALBERT
She studied classical dance from the age of 5 and in 1987 went to the National Shool of Music and Dance in Agen, studying under Evelyne DUBERNARD and Barbara SCHWARZ .
In 1996, she won a gold medal in ballet at Agen and first prize in contemporary dance in 2000.
With the State Diploma in ballet (2004), she now teaches at the Layrac School of Music and Dance and at Aire sur l'Adour.
She has enriched her classical training through contemporary dance experiences with various dance companies. She also dances with "Notes en stock", a collective of artists who actively seek to produce new material. She choreographs and improvises on the theme: World Culture with for example Astor PIAZZOLLA and Atanas OURKOUZOUNOV.
CHRISTOPHE GEILLER
Winner of many prizes and gold medals, Christophe Geiller studied violin and viola at the National Music Academy at Toulouse .
However, he also brought his talent for improvisation to bands with various musical influences : Big-Band « Caléïdophone », the jazz duo « Candelys », the Irish music of « Busker & Keaton » and festival of modern music "Musica" in Strasbourg (1997) under the direction of the composer G. Aperghis .
He decided to keep his solo viola player position at the Pau Orchestra and his passion, arrangement and music compositions in « La Compagnie des Arts ».
JEROME SIMONPOLI
He is a graduate both of the National Music Academy in Limoges (Gold medal in oboe and chamber music) as well as the National Academy of Dance and Music, Paris, (first prize in oboe in 1984 under P .PIERLOT).
In 1991, he was principal oboist with the Capetown Symphony Orchestra (South Africa)
Since 1993, he is principal oboist with the Bordeaux National Orchestra .
In 1995, he came back to his roots to teach Oboe at the National School of Dance and Music School in Agen.
EMMANUEL FERRAN
Studying with C. POUYANNE, in Agen, Emmanuel FERRAN proved his desire to follow a career in music.
He gained his diploma in Music Studies at the Agen National Music Academy in 1995.
Then at the Bordeaux National Music Academy he received the gold medal in clarinet and chamber music, studying with R. Rimbert.
In 1996, he took part in the International Academy Pablo Casals, Prado, working with Y. DIDIER and M. LETHEC .
Alongside C. POUYANNE, he teaches at the Agen National School of Music and Dance and in Villeneuve sur Lot .
LAURENE
ALBERT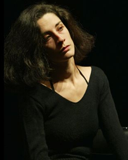 CHRISTOPHE
GEILLER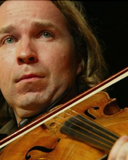 JEROME
SIMONPOLI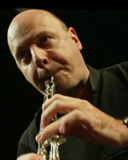 EMMANUEL
FERRAN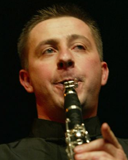 Listen to an extract of the album :
"L'Histoire du Tango"
Close your eyes
Deus Xango
Visit their websites : www.benoitalbert.com