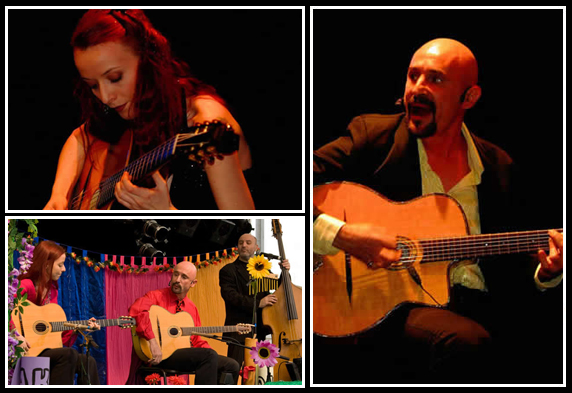 Philippe "Doudou" Cuillerier is famous in the Gypsy swing circle as a great guitarist accompanist. His collaboration with big names in this field, (Angello Debarre, Romane, Tchavolo Shmitt, Biréli Lagrène, Babik Reinhardt, Stochelo Rosenberg, Rodolphe Raffali, Christophe Lartilleux of the band Latcho Drom, Patrick Saussois and more) have brought him to even greater attention. Naturally, these musicians call on him for their concerts, to spice up their lively swing appearances, gypsy songs and furious scat .
Not only an active musician, Philippe is also a teacher and gives lessons in gypsy guitar all over France. The trio "Doudou Swing" offers a repertory based on vocal swing and the whole Gypsy-Paris-Musette culture.
"Doudou" is accompanied by :
Victorine Martin, a classical guitarist who suprises many with her Gypsy rythms .
Victorine appeared in the Tony Gatlif film "Swing" in the company of the legendary Tchavolo Shmitt. She joined the Raphaël Faÿs quintet in 2003 .
Vistorine worked with Patrick Saussois of the Alma Sinti group, which she joined in 2004. She's now with the new jazz group of Marie-Ange Martin and Gerard Sifer .
President of the APAA since august 2000, she has organised summer courses in Mouans-Sartoux. Angelo Debarre, Romane and Doudou himself have contributed to these worshops. As well as playing with Djazz n' Go (swing) and Le Petit Bal (Old musette), Victorine teaches guitar and music theory in Paris .
Antonio Licusati is a Double-bass player and long-time collaborator who is very much in demand with Angello Debarre, Latcho Drom, Astier, Raffalli, Biréli Lagrène, Echoes of Friends with Max Robin, amongst others. His professionalism, his comfortable, round sound suits the music of Doudou Swing perfectly.
On accordion is the excellent Emy Dragoï, a Romanian gypsy who fits into the group with mastery and know-how. You can regularly hear him and his orchestra "Tzigane Story" with their typical eastern Europe repertory From Romania to Russia by way of Yougoslavia.
Dominique Vernhes already seen alongside Claude Bolling, the Grand Orchestra at the "Splendid" as well as Gerard Badini, Saxomania of Claude Tissendier, Patrick Saussois or Jerome Savary, has recently joined Doudou Swing. This talented multi-instrumentalist (accordion, clarinet, flute...) brings his experience , his ardour and his delirious humour to the group.
He is a true poet and seeing him play is an unforgettable experience
Based on the culture of Django Reinhardt and centered on French songs of the 50s to today, this unusual and highly impressive group stands out thanks to its originality and dynamism of their compositions .
Doudou and his friends, specialists of the stage, play their music with great energy...The audience is each time invited to join in this happy experience .
Listen to an extract :
Una caña por favor
Être un homme comme vous
Visit their website : www.doudouswing.com