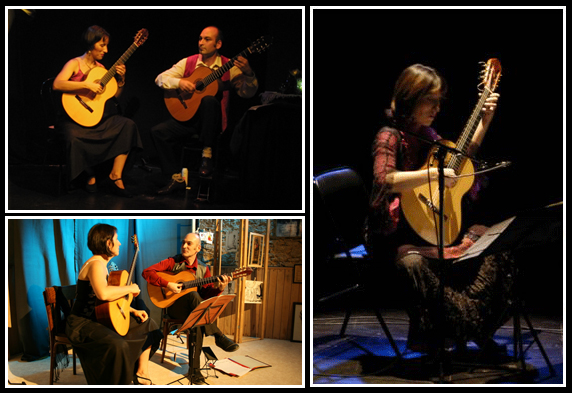 The "Duo Melodyssée" created about 17 years ago, uses the classical guitar throughout their repertoire, from early music to the 20th century via South America and Spain for their guitar-rich music.
The duo consists of Sylvie Roux and Frédéric Denépoux :
Sylvie Roux : lives in Pignan and holds the gold medal of the National Academy of Rueil Malmaison. She studied under Roland Dyens and played in his octet "Octopus". She has performed and lectured at the Music museum in LaVilette. She also plays with "Tango Encuentro" and teaches guitar in schools and workshops.
Frédéric Denépoux : also lives in Pignan. He won the first prize at the Inter Conservatoire, Paris. As well as Melodyssée, Frédéric is with "Tango Encuentro" and is a frequent soloist, notably at the Paris Music Museum. A student of Roland Dyens, he played in Dyen's guitar octet. Like Sylvie, he has taught guitar for several years, as well as composition. He is director of a guitar ensemble at Versailles.
Frederic has just released a record produced by Melodyssée, "Version de nuit" which presents 20th century music on the guitar .
"We like to offer a varied repertoire to the audience, introducing the many facets of the classical guitar; an American-Latin-Jazz tendency, for example works by Piazzola, Machado, Villa Lobos; baroque and Romantic composers such as Bach, Weiss, Sor and Carulli; as well as the treasury of music of the 20th century, ranging from De Falla and Granados to Brouwer, Dyens or Takemitsu.
We equally offer other styles through "Tango Encuentro" and "Duel de Guitares", all in desire to present the guitar and its rich repertoire.
Exemple of their program :
- Inventions de JS Bach
-« Souvenir of Russia» of F. Sor
- Cuban Danse of Ignacio Cervantes, Cuban composer ,
- Venezulian Waltz of Lauro Antonio
- Tangos of Astor Piazzola and other composers ,
- « la danse de la vie Brève » by Manuel De Falla ( With Flamenco accent ),
- Brazilian Chôros
- « l'orientale », Spanish dance of Enrique Granados.
"Sylvie Roux and Frederic Denepoux. Listen to this young guitar duo who already know so well how to combine tenderness with energy and freshness with maturity. I am today convinced of the future great success of these two talented and true musicians at the dawn of their career." Roland Dyens
Listen to an extract :
Libertango d'astor Piazzola
Valse Vénézuelienne(de Sébastien Moralès)
Visit their website : www.melodyssee.com