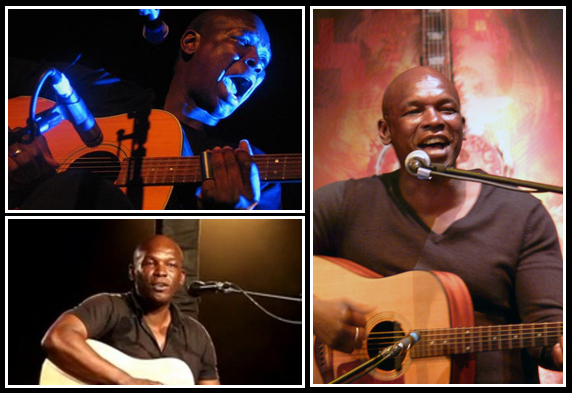 Keith B. Brown is recognized as one of his generation's greatest interpreters of country blues music .
Born in Memphis, Tennessee, his family originally hails from Greenwood, Mississippi in the heart of the delta. His mastery and knowledge of the Delta blues styles; ranging from Son House and Skip James to Bukka White, Robert Johnson and Fred McDowell has put him in the forefront of a small but important new generation of African-American Country-blues artists.
Although he is the consummate guitar man, Keith B's first instrument is his voice. Like the delta titans before him, his orientation to the music is vocal. He distinguishes himself as a pure singer who serves the song, the lyric, and brings an astonishing emotional intensity and power to what he sings. Keith B's talent lies not only in faithfully interpreting the blues tradition, he is also an accomplished songwriter who enriches the music with his own "voice" that rings out with unmistakable honesty and conviction
Living Blues Magazine proclaimed that Keith B's music is imbued with "riveting emotionalism, flawless musicianship and erudition."
His potent and fiery concert performances and recordings are a mixture of traditional and original blues songs and his more contemporary compositions. As Keith B says: "It is important for me to be faithful to the masters and creators of the music, at the same time, it is essential for me and the tradition to tell my own stories, just as they did when they were creating and defining the form. Storytelling is the fabric of the tradition itself, and in order for this music to continue to thrive and evolve, we must be faithful to that tradition…we must tell our own stories."
Keith B backs up what he says on his CD Got to Keep Movin', a CD with all original material. His latest compositions are a powerful mixture of folk, soul and pop elements .
Keith B's growing recognition as an artist has not only caught the eyes and ears of the music world, but is in demand by the Film industry as well. In 1998, filmmaker Glenn Marzano cast Brown as the great Son House in an Award-Winning film 'Stop Breakin' Down', about the life of blues legend Robert Johnson.
Most recently Brown was picked by Martin Scorsese and Wim Wenders to star in the major motion picture "The Soul Of A Man". Keith B's portrayal of Skip James and the film itself have garnered world-wide praise. The film was an "official selection" at the 2003 Cannes Film Festival where Keith B and Wenders were invited to introduce the film.
With the release of The Soul Of A Man and the growing recognition of his enormous talents as a composer, singer/songwriter, Keith B. Brown is enjoying international acclaim as a multi-talented, star of blues, folk, soul and pop .
Listen to an extract :
Bad luck child
All I need
Visit his website : www.kbrownblue.net