Of Italian descent (his grand-parents came to France in the 1950s), Stéphane SANSEVERINO was born in Paris on October 9th 1961
From an early age he travelled with his family all over the world. Thanks to his dad, a paper-maker, from the ages of 6 to 14 he visited Bulgaria, New-Zealand, Yugoslavia and Mexico.
Through this experience, he discovered many musical styles, from "Francois Deguelt to stuff in Italian", and got the taste for putting on a "show". Gypsy music left a strong impression on him, particularly because of the power it produces from such modest means.
After a chaotic education and assiduous participation in sports (ice hockey and cycling), he decided to become a cook and joigned a school for the hotel industry at 16. But after his obligatory military service he didn't return.
At 20, full of energy and wanting to learn everything at the once, he started by taking acting classes firstly with Serge Martin then with Philippe Hottier. He spent 3 years at the "DAL theatre" where he worked on "Comedia del Arte" and Clowning. Later on, he learned the guitar and banjo !
He started his long professional career by creating his own theatre troupe "Les frères Tamouilles". They presented, for example parodies of famous American TV shows like "Supercopter" or " The Return of the Six-Million-Dollar Man".
Very spectacular, they used a lot of equipment on stage. Stephane worked with them for four years, mostly in street performances or at festivals, notably at "Aurillac" or "Chalon-sur-Saône" .
In the second half of the eighties, Sanseverino developed his guitar skills by having a go at the music of Django Reinhardt, Jimi Hendrix, The Satellites, les Béruriers Noirs, Eastern music, AC/DC, Pakistani music, bluegrass, Java and Musette.
Difficult to make a choice from all that !
Travelling had enriched his music with all these musical styles. Now a multi-instrumentalist, he joined his first band "Dans l'intérêt des familles" as a guitarist, then "Les Maris Jaloux", a trio in which he played bass guitar. He later joined the rock band "Doc Denat" but, its on the creation of the band "RMC (Renverse moi chérie)" that he wrote his first compositions like "Rock n'roll Derision".
Duringthis time, he became more and more interested in the cinema. His training as an actor completed, Patrick Bagot gave him the main role in his short film "HP69". He was then 30 years old. He then did another short film called "Les aventures de Francis 15"
Many other projects followed, losing his way sometimes. He then focused on the music of Eastern Europe (Bulgaria, Romania, Yugoslavia) and discovered he liked the swing music of the 1950s.
In 1992 through a workshop bringing together people interested in Romanian music, he decided with Sabine Pierron to form the band "Les voleurs de poules" (Chicken Thieves), an ironic name from the supposed reputation of gypsies. It was a mix of Gypsy music and French songs from the twenties to the fifties, and was only acoustic, so very easy for the band to travel. For Sanseverino, it was a great alternative to the rock music of the time.
Named " Le nerveux (nervy)", he was the composer and performer on guitar and banjo, with Sabine on violin.
Their first performances being very succesful, they soon became a trio with the drummer Nicolas Ferrenbach, replaced by Manu Ruquier in January 1995. With their group completes, they gave their first concert at the Belleville cinema "Le Berry Zebre" in Paris, then came into contact with the association Life/Live in the bar which promotes performances in bars.
With 500 concerts in 5 years, they appeared in concert halls and "bistrots" throughout France : " Ecole et Nature " in september 1992 in Paris, the festival " Jeunes agents EDF " at Soulac August 1993, the carnaval at Cergy-Pontoise in march 1994; tours of Brittany and Olympia 1994 and 95; and the Paris Olympia in January 1995 as the support for Yann et les Abeilles.
Their first album "tu sens les poivrons", came out in 1995 at the same time as appearing at Francofolies at La Rochelle, but, their success was not yet great enough so Stephane had to take on other jobs like roadie for Michel Fugain. This proved to be a great opportunity to observe different performance techniques.
By playing on tour virtually non-stop the band built up a good reputation. When they moved away from acoustic to more electric music, the poor soundproofing of some concert halls made Stéphane think that to develop it was necessary to find a different audience.
However, differing views arose on which way the band should go, so the group broke up in 1999.Stéphane begand writing his first solo album and went back to acting to make money, a part in the"Achille Tonic" show, known today as "Shirley and Dino" .
"Le Tango des gens", came out in 2001, receiving an award from the "Charles-Gros" Academy and becoming a Gold Album. He then shared a 50 date tour with "Tété" in 2001, ending with a several gigs in Switzerland. In 2002, he made 80 appearances where he was noticed at festivals like " les Vieilles Charrues", "Solidays", and the "Nice Jazz Festival" .
On December 14, the tour ended superblyat the Trianon in Paris where he was joined on stage by friends like, "Bernard Lavilliers", "Tété" and "La grande Sophie" .
All these years on the road were officially rewarded in 2003 with a Victoires for the most remarkable newcomer.
Refusing to give in to pressure, SanSeverino took his time before issuing a second album : "Les Sénégalaises" in 2004, which proved to be just as personal and captivating as the first. Everything was there, the caustic sound, the gypsy swing guitars. With a set design of oriental lamps and carpets they "set the stage on fire" at the "Pringtemps de Bourges" festival in April before a long tour by the man who is now considered by many as "Mr Swing".
He was seen again on the stage of the Paris Olympia in June, in support of artists claiming greater employment security, a cause he frequently endorses.
In 2005, he released "Live au Théâtre Sébastopol". The same year, he participated in a 5 track record "on aime, on aide" in support of literacy campaigns. It included two new pieces.
In 2006, he was back on stage in a trio and played at "La Maroquinerie" in Paris .
His great friend
Hervé LEGEAY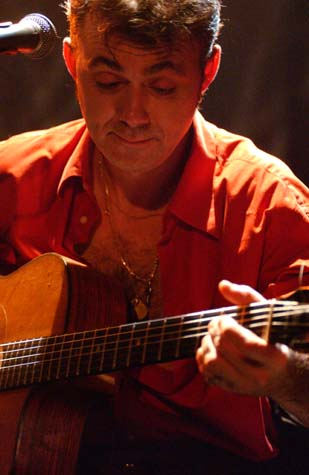 Originally from Angers, this enigmatic guitarist has had an unusual career. He discovered the Rock guitar through The Stones and Led Zeppelin, the movement of the 60s and 70s in which he immersed himself on stage and in the studio. He does not limit himself to one style, he found classical music through playing the guitar: "I'm a fan of Villa Lobos and the Sex Pistols !" he declares
His "Hard Punk" period does not stop him enjoying jazz, Brazilian music and classical singing (he is a substitute in the chorus of the Nantes Opera).
When in desperate need of money, he specialized in Gypsy jazz thanks to the guitarist "Romane", who found in him a promising and willing musician. After five years of studies (with Fred Loizeau), he taught at the Atla school in Paris. He played on tour with the Romane septet and featured on their CD " Samois sur scene". He has also created his own band "Merco Swing" with Felix Belleau on accordion and, as ever, Fred Loizeau. The original name was "Les Roms Blancs". He explains :
"-I like music, and play it, that's all. I don't want to bother with managing a career. Meeting new people is more important than working alone in a room !".
So, he plays with singers like Francoise Kucheda and meets Ms Colette Crolla who lent him Henri's guitar for several concerts. Lots of musicians appreciate his work: Dominique Cravic often asks for his help with the "Prim-Dufs"(Primitives of the future); he has participated in the latest Francis Lemarque recording: "Les rues de mon quartier", thus reaffirming his love of song.
And, he will have song: since 2001, the atypical Legeay, has found in the singer Stephane SanSeverino the perfect alter-ego.
Since "Le tango des gens" came out, the band has been overwhelmed with concerts at "Francofolies", "La Cigalle" and "L'Européen"record sales are increasing and the musicians barely understand what's happening to them. As for the audience, however, they understand everything after only one show and immediately dash out to buy the record, an album filled with real French songs.
Even when he plays Gypsy swing guitar sitting down, Hervè's body Rocks and swings. The choruses are filled with the man's energy. Although he doesn't takes himself seriously, it does not stop him from preparing new arrangements. SanSeverino put pressure on Sony to have a few quiet weeks to finish a second album: "Les Senegalaises" already a gold record. The future is promising for Hervè Leageay, a true musician, constantly searching, whose only ambition is to meet people …
Listen to an extract of the album:
"Exactement"
Cette conne m'ennuie
Official website : www.sanseverino.fr
Other websites : Autour de Sanseverino
Other websites : StephaneSanseverino